Best Foldable Solar Panel in 2022
Are you hunting for the device that comes to rescue you when your devices are dead and you need them urgently or you need electricity for your camps?
We can suggest some amazing Foldable Solar Panels to ease your life. If you are a traveler or regard yourself as an outdoor person then you may face problems like low battery issues on your devices, while heading for an important meeting or a trip. Then these portable Solar Panels are just the perfect thing for you.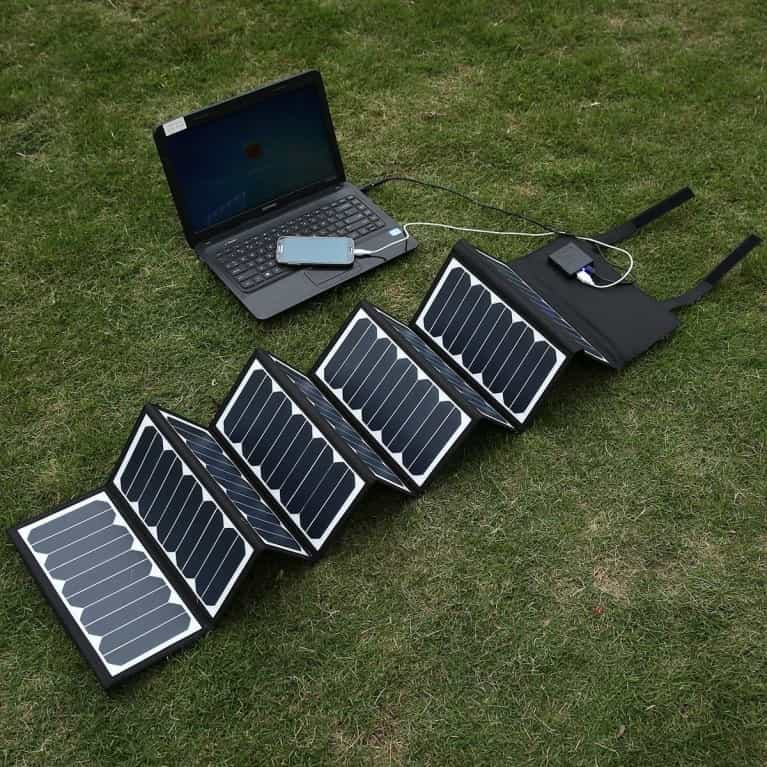 Technology is continuously inventing those devices that make your life easier wherever you go. And now technology has made your fantasy true. Invented the portable solar panels that you can take or use anywhere.
Here are some common details about foldable solar panel.
Foldable solar panels are a pack of portable panels that are constructed to be folded up to give ease in motility and storage. They are also known as solar suitcase and solar blankets. The primary goal is to furnish easy movability that makes utilizing solar energy so simple specifically during traveling and camping. They are available in a wide range of qualities and capacities. Mostly they are equipped with a stand that facilitates placing the panel in the sun's direction.
Back then solar panels were heavy and difficult to move around. But all hail to advanced technology that we have portable solar panels these days. They are lightweight, easy to carry, and easy to store, you can keep it in your backpack. They can generate electricity anywhere even in forests and mountains. Their modernized design makes them easy to assemble and disassemble.
Foldable solar panel produce electricity enough to run a few small devices and charge your batteries. The standard power output of Foldable solar panel ranges from 100 watts to 200 watts. They are ideal for travelers, hikers, campers, and RV-owners. 
Construction and Performance
Foldable solar panel is essentially just like conventional solar panels but with reduced size and weight.
Foldable solar panel consist of small photovoltaic cells which are built from various layers of silicone. The cells are stitched together in a sleek and flexible material. These cells are in charge of the storage and transition of solar energy.
Boron and phosphorus are stuffed in the cells, to transform a cell into an atom and now there is equally positive and negative charge present.
When the sunlight makes contact with panels, light energy known as photons cause a discharge of electrons from the atom, resulting in an electric field. Metallic strips are present to maneuver the electric field and transmit it to the battery. The electricity produced is changed from DC energy to AC energy through an inverter. The charging time and run time of solar panels depend on their capacity and wattage. Batteries can be used to store electricity to use later. A charge controller can be installed to manage the power output.
You can take advantage of foldable solar panel to charge your batteries. You can choose according to your requirement.
Top Foldable solar panels are discussed below and you can compare them to select the best one for yourself. All of them have specific characteristics that distinguish them from each other. You can also consult the buying guide to choose the foldable solar panel of your need.
Best Foldable solar panel to Buy in 2020
KINGSOLAR Portable Solar Panel
KINGSOLAR portable solar panel is all you need to charge your devices on an outdoor tour. With KINGSOLAR solar charger you don't have to worry about low charging of your gadgets. This solar panel has the highest power conversion rate of 23.5%. It has a USB port and a DC port for charging multiple devices. They are top quality solar panels with a fast-charging rate to charge your devices promptly.
This portable solar panel is built with superior quality materials. Industrial standard PET polymeric fabric is used in its construction. It is abrasion-resistant and can confront foreign particles. This solar panel has very little weight and can be taken anywhere easily. You can fold it, store it in your bag and take it along with you on hiking, fishing, and camping.
Pros:
• Eco-friendly.
• Lightweight.
• Support the contemporary charging of your gadgets.
• Robust and durable.
• Highly effective.
• Affordable price
Cons:
• It does not perform well in cloudy weather.
ROCKPALS Foldable Solar Panel
ROCKPALS foldable solar panel is another excellent solar panel for your next outdoor adventure. It is compatible with many solar generators so buying this product can be a smart move. It can convert 23.5% of solar energy into electric energy. This foldable solar panel is capable of charging your devices instantaneously, it also prevents overheating and over-charging of devices.
It has triple USB smart charging technology which means it can charge three devices equally at the same moment. This solar panel is mainly preferred due to this feature. Oxford cloth is used in its formation which provides reliability. It can also work in humid conditions because it is waterproof, this attribute adds to the long life of this solar panel. Its foldable structure provides great benefits in its packing and storage.
Pros:
• High power conversion rate.
• Easy to carry anywhere.
• Durable construction.
• Waterproof.
Cons:
• The customer care service is not very good.
SUAOKI Foldable Solar Panel
The most notable thing of the SUAOKI foldable solar panel is its efficient charging property, it can charge at a highly fast rate without overheating. The power conversion rate of this solar panel is 20% under sunlight.
SUAOKI is a brand which always delivers best for their customers and this solar panel is a gift to all the customers. By built-in smart IC technique, the charger can rapidly detect the current of your gadget and boost up the charging rate. It has an IPX3 waterproof rate, it is shielded against spraying water. It can be folded up like a suitcase and allow easy mobility. SUAOKI has a very good customer care facility and provides a reliable warranty for their products.
Pros:
• Complete protection of your devices.
• Compact structure.
• Easy to install.
Cons:
• It is splash-proof but not completely waterproof.
Renogy Foldable Solar Panel
Renogy 100W solar panel is a heavy-duty panel that is built for harsh conditions. This powerful panel is ideal for outdoor adventurers. It is a Monocrystalline solar panel. The abrasion-resistant aluminum frame is used in it, that can last for decades, this is the secret behind the long life of this panel. For easy installation, holes are drilled on the back for fast mounting. These holes are compatible with different mounting systems such a z-bracket, tilt mounts, and pole mounts.
Each panel weighs 16.5 lbs. and 47 inches long allow easy transportation. For best operation, it must be placed on direct sunlight. This solar panel can tolerate heavy winds of about 2400Pa and snow loads of about 5400Pa. An LCD is installed so you can be aware of the state and condition of batteries.
Pros:
• Adjustable legs.
• The charge controller is equipped.
• LCD is installed
• Withstand extreme weather conditions.
Cons:
• The warranty of this product is not good.
Jackery Foldable Solar Panel
Jackery portable solar panels are one with the highest energy conversion rate (23.7%). It is a powerhouse that keeps all your gears charged up. The extra energy can be deposited in Lithium batteries to use later. It is a Monocrystalline solar panel made from pure silicone layers. This solar panel weighs 9.1 lbs only, that's why it is easy to hold.
It includes a rubber handle, a kickstand, batteries, etc. The kickstand can be adjusted at a specific angle to capture maximum sunlight resulting in enhanced power output. It is heat-resistant and can work at high temperatures. It can be used to charge more than one device at a time. Pure Sine Wave Inverter guarantees safe charging of sensitive gears without any harm and also reduces the noise.
BMS system is used to manage over-voltage protection, over-current protection, over-temperature protection, etc.
Pros:
• Muscular design for long term working.
• An adjustable kickstand is included.
• The highest energy conversion rate in the industry.
Cons:
• Not waterproof at all.
• This panel doesn't come with clear instructions.
Bigblue Foldable Solar Panel
Bigblue Foldable solar panel is a 28W panel with a built-in ammeter, the power collected from the rays will display on the screen. It also has a pocket with a zip to keep your device clean. It has a power efficiency of 21.5 – 23.5%. It is a compact model, folding it has the same dimensions as a magazine. Constructed for the trekking, fishing, and hiking lovers. It is compatible with Apple devices. It consists of 4 hooks, so you can hang your solar panel anywhere.
When it remains out of contact from sunlight for some time, it stops charging until sunlight again hits it without harming the connected device. If sunlight is not enough the panel will display a note "accessory is not supported". Two USB ports are available to charge two devices simultaneously. This solar panel is made up of premium quality PET material that protects it from any harm. It comes with a warranty of 1 year.
Pros:
• Smart IC technology is present.
• Durable device.
• Good warranty.
• Quite supportive customer care service.
• Eco-friendly.
Cons:
• It is not waterproof.
• It cannot store electricity, works only when in contact with sun rays.
Eco worthy Foldable Solar Panel
These are among the highly recommended foldable solar panels in the market. They got heaps of features, starting with its weight, it weighs 8.42 lbs. which makes it comfortable to use in different places. This solar panel is available with an accessory kit, this kit provides equally efficient functioning anywhere. It is compatible with other gears like laptops or tablets.
The material used in the functioning of this unit is of high value. Zipper helps you to keep all the accessories organized. Its solar efficiency is up to 20%. This is also a Monocrystalline solar panel which is used for effective operation. This unit is splash-proof which means it can shield cells from a small amount of water.
Pros:
• It comes at an affordable price.
• One of the most recommended equipment.
Cons:
• It is not weather resistant.
• Regular energy efficiency.
Moolsun Solar charger – Portable Solar Panel
Moolsun is a 24W solar panel that converts the sunlight into electricity and it also charges the device with the help of sunlight at 22-25% conversion rate. It is established with PET laminated solar panels with a fine touch of PVC fabric. It is a lightweight, thin solar panel. This bumpy and heavy-duty panel is easy to use. Moreover, it is portable so that you take it anywhere without being restricted to a specific area. It works for those devices that require the power of 5 volts.
Moolsun solar panel has bodices on it. This panel works great with suction cups to keep the panel fixed at the window for the best exposure to the sun. Its ultra-lightweight and thin design makes it appropriate for a long journey.
Moolsun has a foldable and portable design which makes it easier to carry. It has multiple functions with the grace of 3 USB port controllers that assist in handling in voltage and charge your phone tablet power bank fast at a time. Also has an ETFE surface that guards the panel and also makes it suitable for outdoor purposes.
Pros:
Some of the benefits are as follows
• It is portable so that you can carry it anywhere.
• It can be folded.
• Having high- quality solar cells.
• Having a long-life span.
• Having bodices which make it easier to stick on wall windows or something like that.
• Can charge 3 devices at a time.
Cons:
Some of the disadvantages are as follows
• Its installation is very costly.
• Its efficiency decreased down in cloudy or rainy weather.
TWELSEAVAN 100W solar panel Portable Solar Charger
These portable solar panels are specially designed for travelers, these are your perfect companion for outdoor activity. USB QC 3.0 port output and USB C-PD port output are added to chiefly minimize the charging time. 18V DC port output is also present to build a solar generator system. It is compatible with most of the mobile devices in the market such as laptops, smartphones, tablets, power banks, digital cameras, etc.
An ideal choice for outdoor life and unexpected power shutdown. Photovoltaic cells used in this solar panel are monocrystalline made for high efficiency. It works best under sunlight; gloomy and cloudy weather can affect its normal working. The power conversion rate is 21-23%. An adjustable stand is also available with it to mount it properly. Moreover, It is equipped with triple charging units.
Pros:
• USB ports for all advanced devices. 
• High solar efficiency. 
Cons:
• Interruption in solar charging will cause gadgets to stop charging and the need to be re-plugged.
Portable and Foldable Solar Panel – Buying Guide
After analyzing the features, pros and cons of all the products, it is the moment to go for a solar panel that is best for you. For this purpose, you need to look over 3 variables which are as follows
• Wattage
• Voltage
• Size and Weight
WATTAGE:
It tells how many devices or equipment you can charge or power and for how much time you can charge or power the objects. It depends on the types of equipment that you want to power. If you want to charge small devices like phone, tablet and power bank then a solar panel having 100 wattages would be best for you. but if you want to power LCD, television, or fridge then you must go for the panel with 200-300 wattage.
VOLTAGE:
It tells about what kind of object you can power properly. There are solar panels with different voltages such as 5V, 12V and 18V. If you want to power smaller devices like flashlights, phones then go for a 5V solar panel. 12V solar panels for LED and 18V are required to power tabs and laptops.
SIZE AND WEIGHT:
The size and weight of the panel highly depend on the purpose of your need. if you want to go camping and hiking then light-weight solar panels are ideal. But if you want it for your RV then slightly heavier can be best for you.
Foldable Solar Panel – Winner?
By considering all the points in the buying guide, in our opinion, the best foldable solar panel is TWELSEAVAN. Because it charges your 3 devices at a time with a faster rate as compared to others.
Moreover, it can power your larger equipment like a fridge, television and laptop. Also has a high-power conversion rate of about 23%. It is best for both RV and camping.