12 BEST SEPTIC SAFE TOILET PAPER 2021
Does your toilet clog every time you flush? If you are looking for a good quality septic safe toilet paper then review our list of best toilet papers to make your life easy.
We all use toilet paper daily. There is a large variety of toilet papers in the market but we tend to choose the ones that are not just soft and comfortable to use, but also septic tank friendly to save our toilets from being clogged.
You might be interested in Bamboo Toilet Paper too.
The toilet paper need to be strong enough to hold while in use and dissolve quickly after use. Toilet paper that doesn't perform is of no use.
Septic safe biodegradable toilet paper are easily available in the market, all you need to do is to choose which one suits you best.
Quilted Northern Ultra Plush toilet paper provides you the best hygienic experience with a soft and clean feel with its three silky layers. It offers you better value for your money. The supreme pack consists of 24 rolls which are equivalent to 92 regular rolls.
The rolls of this toilet paper can fit into any standard tissue dispenser, ending all your worries. In case it doesn't fit well, the company sends a roll extender for free. The most important benefit is that it dissolves quickly and doesn't clog the septic system
If you want soft, clean, and septic tank friendly toilet paper for a comfortable experience, buy quilted northern ultra-plush supreme.
---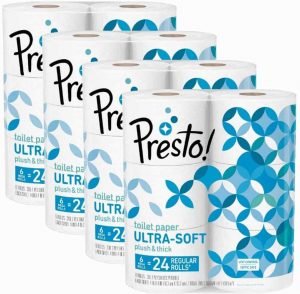 The top preference of people while buying this toilet paper is its softness and septic safe friendliness. The Amazon Brand-Presto! Ultra-Soft tissue papers dissolve quickly, making your septic tank safe and clog-free.
The six mega rolls of amazon presto are equivalent to 24 regular rolls. These supreme rolls reduce your expenses and give more value for your money. It comes with a guarantee of a refund if you're not satisfied with it.
This Ultra-soft Toilet paper last four times longer than other tissue rolls and are easily fit into standard roll holders. Moreover, they are made from viably managed forests.
The Amazon Brand Presto! Ultra-Soft tissue papers are relatively inexpensive and comfortable to use. It never clogs your toilet and leaves less tint behind.
If you are looking for environmental-friendly tissue papers then Angel Soft Toilet Paper should be on your grocery list. It is our responsibility to conserve trees and buy eco-friendly products.
Angel Soft toilet paper is sourced sustainably and has earned the sustainable forestry initiative (SFI) Fiber sourcing certification that makes sure everything is legal and sustainable.
These tissue rolls are soft containing no additives. The pack offers more toilet paper than other brands, making it easy for you to buy without any hesitation. It fulfills all your requirements by being septic safe toilet paper
Toilet paper by Firebelly Outfitters are super soft, absorbent tissues that can be used for any vehicle with a septic system. They dissolve more quickly than other toilet papers of this category. The super pack has eight rolls. These tissue papers won't shred in your hand or your bottom.
They are biodegradable and septic safe. This 2-ply toilet paper doesn't include any chemicals which reduce the frequency of septic treatments. It is the most convenient option for boasts. RVs, motor homes, or any other traveling trailer.
Go for Firebelly Outfitters RV toilet paper if you own an RV or vehicle with a septic system. It is beneficial for the environment and your wallet
Cottonelle Ultra Clean Care toilet paper with Active Cleaning Ripples is vital, 1-ply toilet tissue uniquely modeled with a fluffy, cushiony Cleaning Ripples Texture that wipes out more. It is three times powerful and thicker & two times extra absorbent than the major value brand. It rapidly breaks down after flushing.
This toilet paper is made up of plant-based fibers, no harsh chemicals or dyes are used. Add Cottonelle Flushable wipes to your bathroom routine, and for a Refreshing Clean versus using dry bath tissue. It is biodegradable, clog-safe, septic safe, and sewer-safe. It is hypoallergenic and paraben-free.
It contains 4 packs of 6 family mega rolls per pack containing 128 regular rolls, 388 sheets per toilet paper roll. Cottonelle is strong, 1-ply toilet paper, 3 times stronger & thicker, and 2 times more absorbent per sheet than the top national brand.
Seventh Generation 100% Recycled toilet Paper is an extra powerful and soft 2-ply toilet paper decolorize without chlorine bleach. Seventh Generation Free & Clear 100% recycled toilet paper and paper towels are made with no added colors, inks, or aromas. It is environment friendly, RV-friendly and septic safe toilet paper.
Buying toilet paper may not appear like an option that can make a great effect. But together our selections add up, and we can make an impact by using 100% recycled paper bath tissue. Seventh Generation has been genuinely developing safe and effective plant-based merchandise that serve well for many years.
Their Free & Clear paper is Forest Stewardship Council certified as FSC Recycled. It includes 24-roll per pack, 240 sheets per roll. It is also compatible with low-flow toilets in RVs and campers and is environment friendly.
Freedom living Toilet paper manufacturing does not include any nasty chemicals, enzymes, chlorine tablets, bacteria & other nauseating cleaner solutions. This toilet paper is fully biodegradable and safe for the environment. These tissues are perfect for composting toilets, and septic tanks.
Freedom living toilet paper dissolve completely in minutes and at the same time are gentle and durable enough for the task at hand and won't rip or zip abruptly. They are soft but not weak, this tissue paper sheets are gently textured without being abrasive or uneasy. These tissue papers will help you run your septic system smoothly. Enjoy your time with your family comfortably and let us deal with all the filthy tasks. Each roll has 500 sheets.
Caboo Tree-Free Bamboo toilet paper carved from organically thrived bamboo & sugarcane, both are fast-growing grasses bestowing you a natural, endurable, and eco-friendly alternative to traditional tree-based bath tissue papers.
These are 100% biodegradable, hypoallergenic, non-chlorine, BPA-free, fragrance-free, paraben-free, and dissolve quickly after use. This septic safe toilet paper is safe for all disposal systems. These tissues are soft & Strong sheets and are the perfect hybrid of bamboo's strength and sugarcane's delicate fibers.
They are Non-GMO Project Verified, giving you entirely credible clarity and unparalleled excellence. Caboo is accredited by the BRC Global Standards, FSC, ISO 14000, and is proudly eco-friendly. It contains a pouch of 32 Double Rolls with 300 sheets per roll.
Scott Rapid-Dissolving toilet paper is the clog Clinic experimented and authorized to be septic safe and sewer-safe. It is fast dissolving septic safe toilet paper that breaks down four times quicker than the leading bath tissues. It is super soft, absorbent, and very soothing on the skin. These are tissue paper you can trust to help conserve your plumbing while going on an outdoor trip. These bath tissues are certified by the Forest Stewardship Council. It can work swiftly in sensitive septic systems tank. It Includes 4 rolls with 231 sheets per roll.
Member's Mark is a top-ranked toilet paper because of its thickness, durability, softness, and biodegradable features. While using, it will not break apart like other toilet papers. Due to its thickness, it is strong enough that it won't shatter in your hands and it is also very easy to use.
Member's Mark is septic safe and cheaper than other toilet paper brands so that you'll get great value in exchange for money.
If you are hunting for soft, biodegradable, and durable toilet paper, then you must make your move for Member's mark bath tissue. Moreover, it won't block your toilet as other local brands do. Member's Mark is the thing that you need for toilets and also consumers agree that it is best for your toilet needs.
Georgia Pacific is one of the best toilet paper. It is durable, soft, biodegradable, and also quickly absorbs the liquid. Its biodegradable feature makes it break down easily and swiftly in a septic tank.
If you are an environment-conscious person then Georgia-Pacific envisions embossed toilet paper is the best choice for you. This company follows all the guidelines of the Environment Protection Agency to minimize post-consumer recycled fiber content while manufacturing. It is not only septic safe but also perfect for the environment.
It does not offer high-quality softness like other brands. Its surface is rough which makes irritation while sitting on it. But it can do its job perfectly and will not clog your septic tank.
Charmin is one of the most popular brands among septic safe toilet paper. It is very comfortable, soft, and safe for septic tank and absorbs a lot of liquid. It offers you an excellent bathroom experience at a low price. Charmin gets its job like other toilet paper brands.
Charmin does not dissolve easily like other recycled toilet papers, but it is quite best for any type of septic tank. The thing for which Charmin is famous is its highly absorbent feature, which means you need less paper to absorb more.
What Makes Toilet Paper Septic Safe?
The features that make the toilet paper septic safe are as follows
Biodegradable
A biodegradable toilet paper keeps loose bonds and non-dissolvable fibers which slows the breakdown process of toilet paper while exposed to the water. The biodegradable feature of this toilet paper makes the septic systems to last longer and work properly without being clogged.
Recycled
Recycled toilet paper is not like non-recycled papers, they do not keep any bleach or harsh chemicals that disturb the balance of the septic systems. The septic systems not only have water but they also have microbiome that breaks down the waste as food energy and also the toilet paper.
Toilet Paper for Septic Tank (Fastest Dissolving) – Verdict
If you are looking for the best toilet paper for septic tank, you don't have to worry because we have gathered all the necessary information to help you choose the best. For the best toilet paper, you only have to look at its texture, fragrance, softness, thickness, and absorption rate. But make sure to avoid worst type of septic safe toilet paper to avoid any drain blockage.
By keeping in view all the points, in my opinion, the best toilet paper for septic tank is Member's Mark toilet paper. As it is soft, durable, thick, and absorbs a lot more than any other brand. Moreover, consumers also praise its high-quality features.